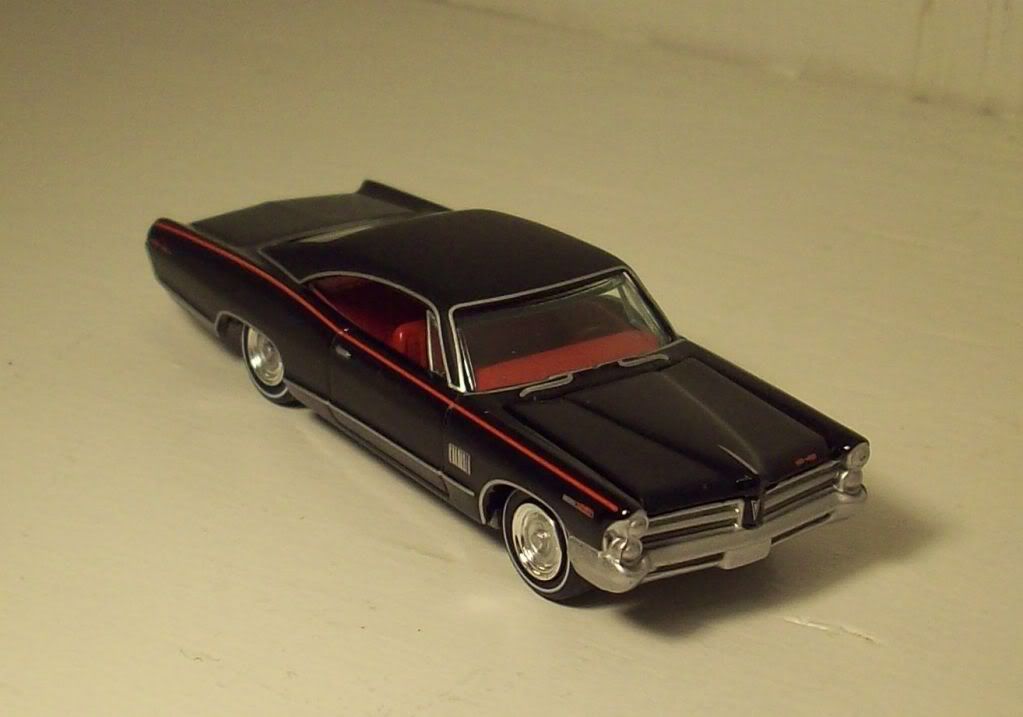 Today's car comes from Firehawk73's collection and is the 1965 Pontiac Catalina by Johnny Lightning.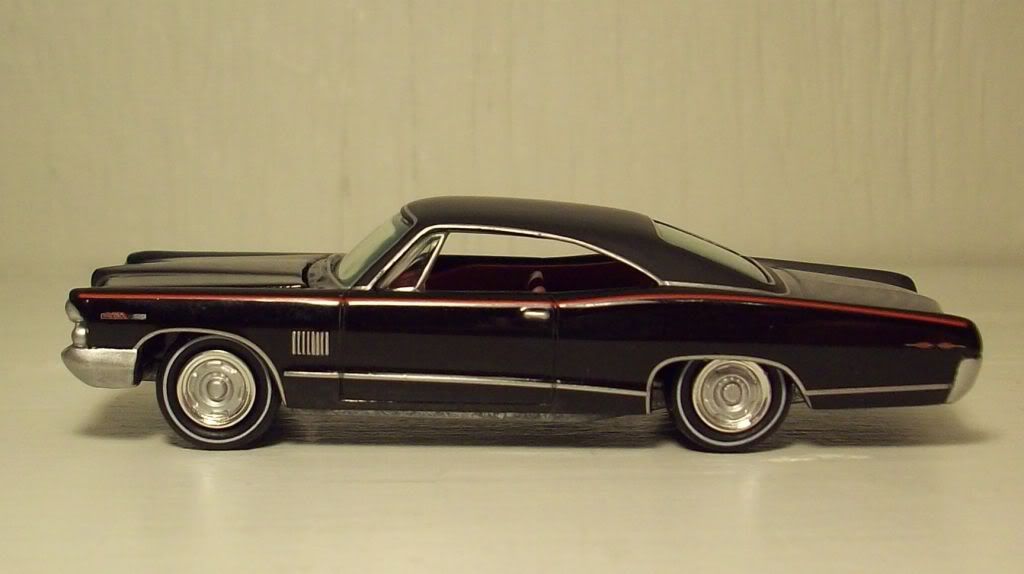 The 1965 full-sized Pontiacs were completely restyled with more flowing sheetmetal featuring "Coke-bottle" profiles and fastback rooflines on two-door hardtops. Wheelbases increased to 121 inches (3,100 mm) on all models.
A new three-speed Turbo Hydramatic automatic transmission replaced the previous Roto Hydramatic unit on full-sized Pontiacs for 1965. The "Turbo" was a three-speed torque converter unit similar in basic design to Chrysler's Torqueflite and Ford's Cruise-O-Matic transmissions - a move that made torque converter automatics the universal design for shiftless transmissions, and relegated the original fluid-coupling Hydramatic to history. Though the "Turbo" transmission continued to use the Hydramatic name, it shared none of its design with the older transmission. The Turbo Hydramatic also adopted the standardized "P-R-N-D-S-L" shift pattern which replaced the "P-N-D-S-L-R" pattern long familiar to owners of Hydramatic-equipped Pontiacs, Oldsmobiles and Cadillacs.
The 389 and 421 cubic-inch V8s received a number of revisions including thinner wall block castings. The standard engine for Catalina models was the 389 two-barrel rated at 256 horsepower (191 kW) with base three-speed manual transmission and 8.6 to 1 compression or 290 horses with Turbo Hydramatic transmission and higher 10.5 to 1 compression. An economy regular-fuel 265 horsepower (198 kW) version of the 389 two-barrel with 8.6 to 1 compression ratio that burned regular gas was available as a no-cost option with Turbo Hydramatic. Optional engines included a four-barrel 389 rated at 325 horsepower (242 kW) with Turbo Hydramatic or 333 with stick shift, a Tri-Power 389 rated at 338 horses, a four-barrel 421 rated at the same 338 horsepower (252 kW), 353 horses with Tri-Power or the 421 HO with Tri-Power and 376 horsepower (280 kW).
The 2+2 option changed from a trim package to an all-out performance car package for 1965 similar to Pontiac's intermediate-sized GTO. The base engine with the 2+2 was now the 338-horsepower 421 four-barrel with the 353 horsepower (263 kW) Tri-Power or 376-horsepower 421 HO with Tri-Power available as options.
Check out http://en.wikipedia.org/wiki/Pontiac_Catalina to learn more.