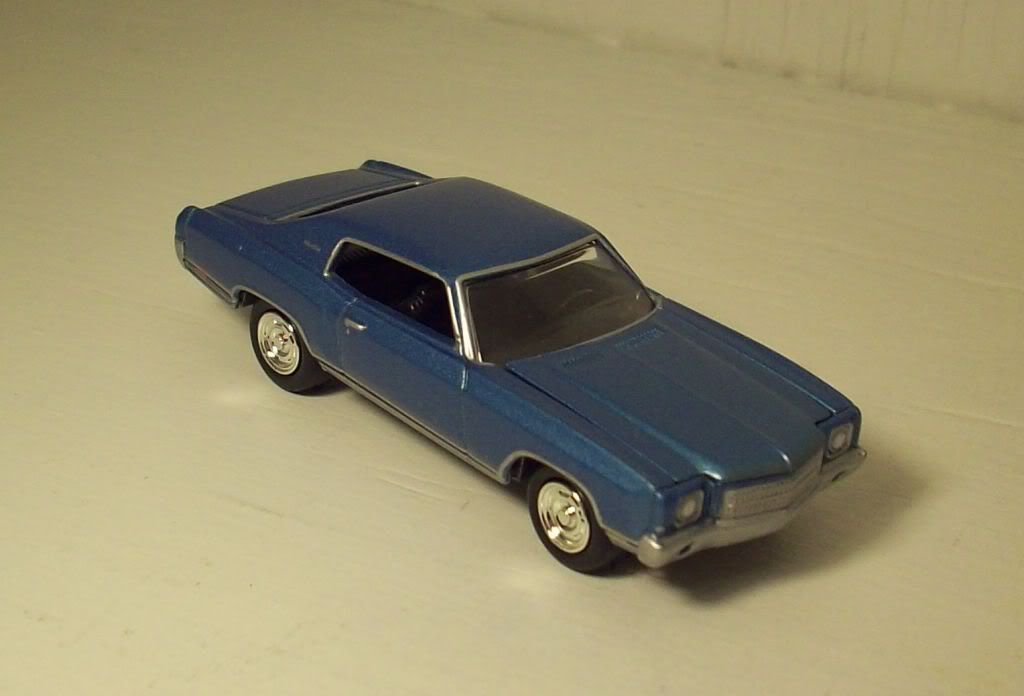 The car for today is Johnny Lightning's 1970 Chevy Monte Carlo and is from Firehawk73's collection.
The Monte Carlo was originally created as Chevrolet's counterpart to the then new G-body Pontiac Grand Prix, which had been introduced for model year 1969. For the 1968 model year, GM had instituted a split-wheelbase policy for its A-body intermediate cars: 112 in (2845 mm) for two-door models, 116 in (2946 mm) for sedans and 121in for station wagons. The Grand Prix was a two-door coupe riding a special 118 in (2997 mm) version of the A-platform (known as the "G-body "). Rather than add the extra length within the body to increase passenger space (as was customary on sedans) the G-body (also known as the A-body Special) spliced the extra length between the firewall and the front wheels, creating an unusually long hood. The look was very successful, and the new Grand Prix greatly outsold its larger, B-body predecessor despite higher prices.
The standard powertrain was the 350 CID (5.7 L) Chevrolet "Turbo-Fire" small-block V8 with a two-barrel carburetor, rated at 250 hp (186 kW) (gross) at 4500 rpm and 345 ft·lbf (468 N·m) of torque at 2800 rpm, mated to a column-mounted 3-speed Synchro-Mesh manual transmission. Front disc brakes were standard equipment. The dashboard was basically identical to the Chevelle except for fake wood trim, according to Holls a photographic reproduction of the elm trim used by Rolls-Royce, and higher grade nylon (or vinyl) upholstery and deep-twist carpeting were used. Base priced at US$3,123, the Monte Carlo cost $218 more than a comparable Chevelle Malibu.
The most sporty and powerful option was the Monte Carlo SS 454 package. Priced at $420, it included a standard Turbo-Jet 454 of 454 CID (7.4 L) with a four-barrel carburetor, rated at 360 hp (269 kW) at 4800 rpm and 500 ft·lbf (678 N·m) of torque at 3500 rpm. It also included heavy-duty suspension, wider tires, "SS 454" badging, and an automatic load-leveling rear suspension. The Turbo-Hydramatic transmission (with a 3.31 rear axle) was a mandatory option with the SS package, although it still cost $222 extra. Weighing only a bit more than a comparably equipped Chevelle SS 454, the Monte Carlo SS was quite a fast car, although it accounted for less than 3% of Monte Carlos sold in 1970.
Various options were available. A two-speed Powerglide automatic transmission (on 350 CID engines only), three-speed Turbo-Hydramatic, or a four-speed manual; most Monte Carlos carried the Turbo-Hydramatic. Variable-Ratio Power Steering, power windows, Four Season Air Conditioning, power seats, Rallye wheels, Strato bucket seats, center console, full instrumentation, and various other accessories were also available, bringing the price of a fully equipped Monte Carlo to more than $5,000.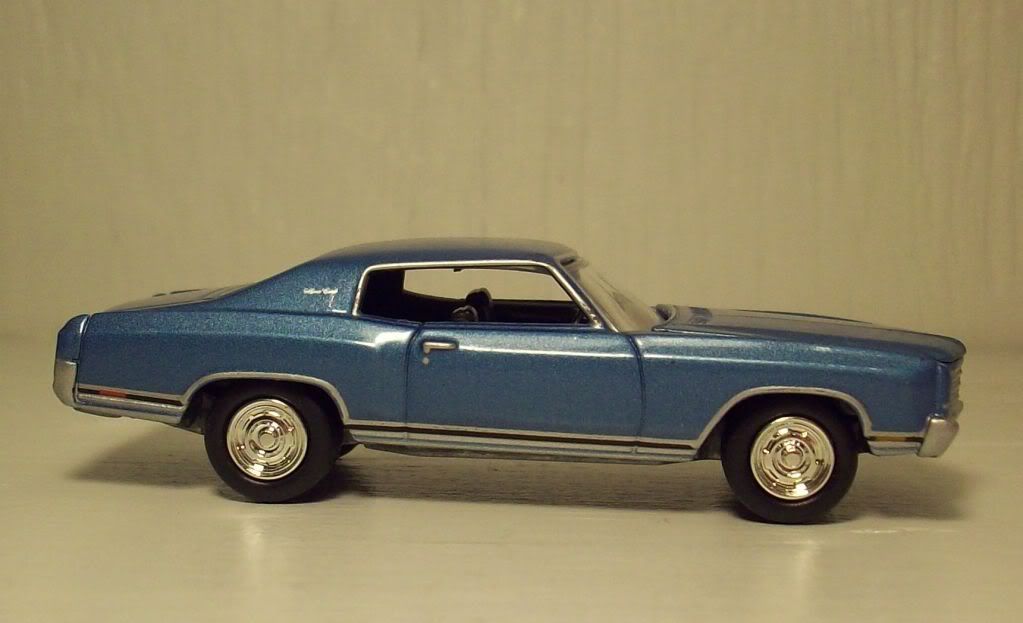 For more info, check out http://en.wikipedia.org/wiki/Chevrolet_Monte_Carlo to learn more.