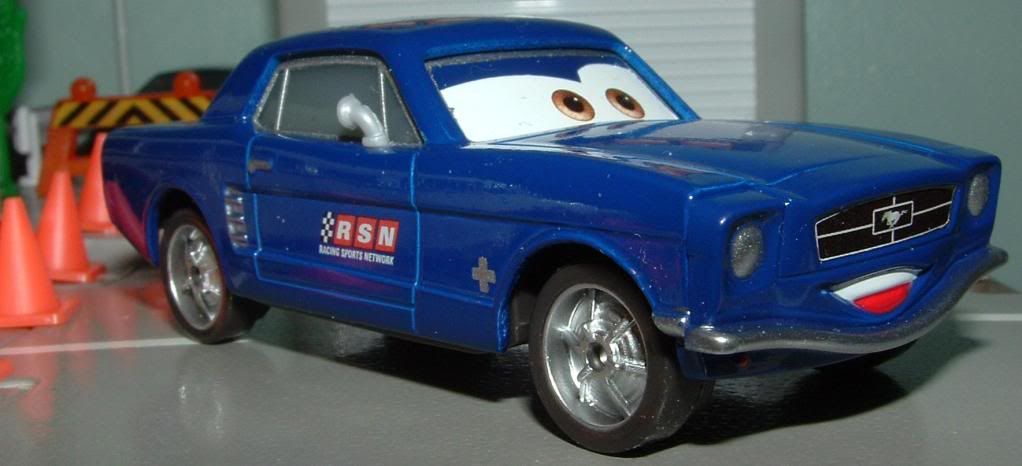 Today's car of the day is Mattel's Disney/Pixar "Cars 2" 1965 Ford Mustang.
The first-generation Ford Mustang is the original pony car, manufactured by Ford Motor Company from 1964 until 1973.
Initially introduced as a hardtop and convertible, with fastback version put on sale following year. At the time of introduction Mustang, sharing its underpinnings with Falcon, was slotted into a compact car segment.
With every next revision Mustang saw increase in overall dimensions and in engine power, thus as a result, by the 1971 Mustang has entered a muscle car market. After initial surge, sales were at steady decline and Ford began working on new generation. When oil crisis hit in 1973, Ford was prepared having already designed smaller Mustang II, which had nothing in common with first generation cars.

For more information and pictures of the real car please visit:
Ford Mustang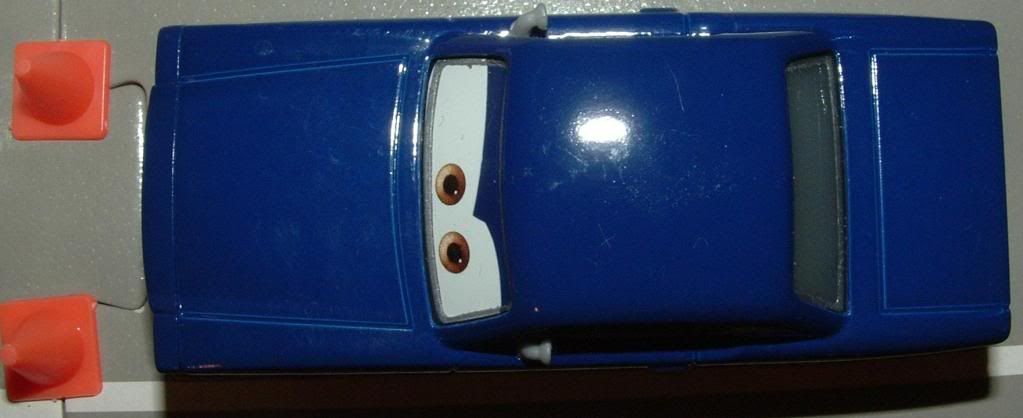 I have been eagerly anticipating a Mustang in the "Cars" universe, and I always figured that when one would show up it woud be either a first generation or a brand new one. So it comes as no surprise to see a 1965 model. However, unlike the Gremlin and Pacer models also part of this wave of car, I'm not impressed with this Mustang. As Dean noted it's big (close to 1/55 if I had to hazard a guess), but I'm less forgiving of the front and rear fascias. The grill is contorted- I'm not sure if that's supposed to be a facial expression or not, I don't recall seeing any of the characters in the first film move their grills around but maybe I missed it. The rear fascia & rear quater panels though is where this one falls apart entirely. It's just plain flat. All of the unique curves the real car has back there are ignored. I also think they could have done a better job with the Mustang badges on the front fenders- I know Mattel can do better details than this!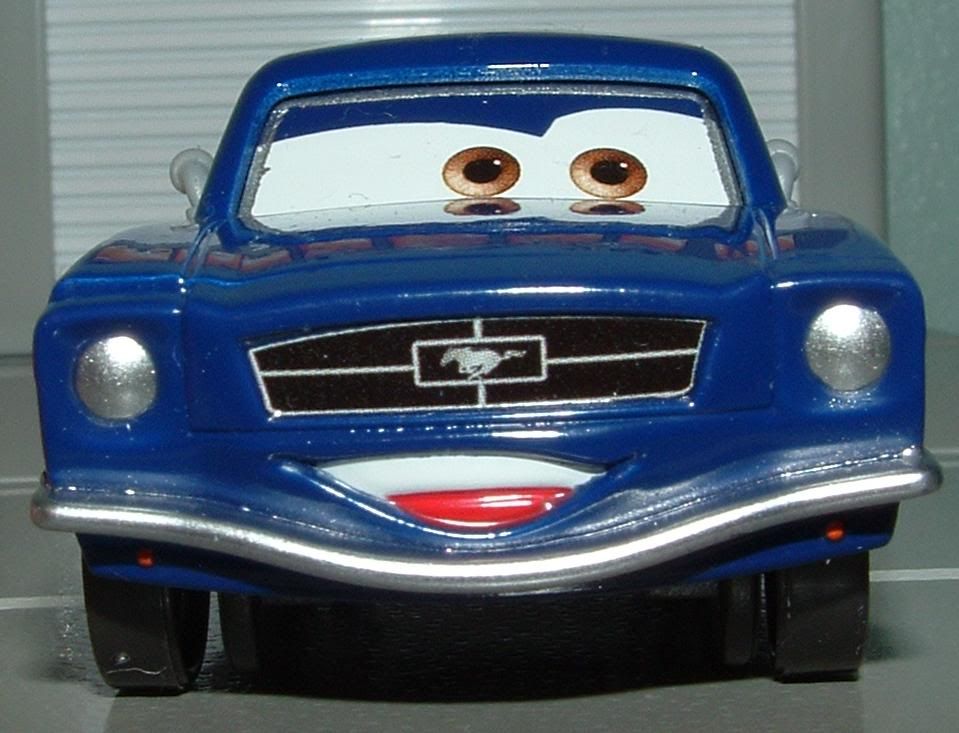 Since it was introduced five months before the normal start of the production year and manufactured among 1964 Ford Falcons and 1964 Mercury Comets, the earliest Mustangs are widely referred to as the 1964½ model. A more accurate description is the "early 1965" model because it underwent significant changes at the beginning of the regular model year. All the early cars, however, were marketed by Ford as 1965 models. The low-end model hardtop used a "V-code" 170 cu in (2.8 L) straight-6 engine and three-speed manual transmission and retailed for US$2,368.
Several changes to the Mustang occurred at the start of the normal 1965 model year production, five months after its introduction. These cars are known as "late 65's," and were built after factory retooling in August 1964. The engine lineup was changed, with a 200 cu in (3.3 L) "T-code" engine that produced 120 hp (89 kW). Production of the "L-code" 260 cu in (4.3 L) engine ceased when the 1964 model year ended. It was replaced with a new 200 hp (150 kW) "C-code" 289 cu in (4.7 L) engine with a two-barrel carburetor as the base V8. An "A-code" 225 hp (168 kW) four-barrel carbureted version was next in line, followed by the unchanged "Hi-Po" "K-code" 271 hp (202 kW) 289. The DC electrical generator was replaced by a new AC alternator on all Fords (the quickest way to distinguish a 1964 from a 1965 is to see if the alternator light on the dash says "GEN" or "ALT"). The now-famous Mustang GT (Gran - Touring) was introduced as the "GT Equipment Package" and included a V8 engine (most often the 225 hp (168 kW) 289), grille-mounted fog lamps, rocker panel stripes, and disc brakes. A four-barrel carbureted engine was now available with any body style. Additionally, reverse lights were an option added to the car in 1965. The Mustang was originally available as either a hardtop or convertible, but during the car's early design phases a fastback model was strongly considered. Also in 1965 Shelby Mustang was born, it was available only in newly introduced fastback body version with its swept-back rear glass and distinctive ventilation louvers.
The standard interior features of the 1965 Mustang included adjustable driver and passenger bucket seats, an AM radio, and a floor mounted shifter in a variety of color options. Ford added additional interior options during the 1965 model year. The Interior Decor Group was popularly known as "Pony Interior" due to the addition of embossed running ponies on the seat fronts, and also included integral armrests, woodgrain appliqué accents, and a round gauge cluster that would replace the standard Falcon instrumentation. Also available were sun visors, a (mechanical) remote-operated mirror, a floor console, and a bench seat. Ford later offered an under-dash air-conditioning unit, and discontinued the vinyl with cloth insert seat option, offered only in early 1965 models. One option designed strictly for fun was the Rally-Pac. Introduced in 1963 after Ford's success at that year's Monte Carlo Rally and available on other Ford and Mercury compacts and intermediates, the Rally-Pac was a combination clock and tachometer mounted to the steering column. It was available as a factory ordered item for US$69.30. Installed by a dealer, the Rally-Pac cost US$75.95. Reproductions are presently available from any number of Mustang restoration parts sources.
The 1966 Mustang debuted with moderate trim changes including a new grille, side ornamentation, wheel covers and gas cap. A cruisematic three-speed auto transmission became available for the 225-hp V8. The 289 "hipo" K code engine was offered with an automatic c4 transmission, it had stronger internals and a hipo automatic transmission can be identified by the outer casing of the servo is marked with a 'C'. The long duration solid-lifter camshaft that allowed the high revving 289 to make the horsepower it was known for, was not friendly for a non stall speed automatic torque converter. The "HiPo" could be spotted very easily by the 1-inch-thick (25 mm) vibration damper, (as compared to 1/2 inch on the 225-hp version) the absence of a vacuum advance unit on the dual point distributor. With the valve covers off, there is a large letter "K" stamped between the valve springs, that along with screw in studs (vs. a pressed in stud for other 289's) for the adjustable rocker arms. A large number of new paint and interior color options, an AM/eight-track sound system, and one of the first AM/FM mono automobile radios was also offered. It also removed the Falcon instrument cluster; the previously optional features, including the round gauges and padded sun visors, became standard equipment. The Mustang convertible would be the best-selling in 1966, with 72,119 sold, beating the number two Impala by almost 2:1.
The 1965 and 1966 Mustangs are differentiated by variations in the exterior, despite similar design. These variations include the emblem on the quarter-panels behind the doors. In 1965 the emblem was a single vertical piece of chrome, while in 1966 the emblem was smaller in height and had three horizontal bars extending from the design, resembling an "E". The front intake grilles and ornaments were also different. The 1965 front grille used a "honeycomb" pattern, while the 1966 version was a "slotted" style. While both model years used the "Horse and Corral" emblem on the grille, the 1965 had four bars extending from each side of the corral, while on the 1966, these bars were removed. 1966 saw introduction of 'High Country Special' limited edition, 333 of them were sold in Colorado, Wyoming, and Nebraska.
When Ford wanted to introduce the Mustang in Germany, they discovered that Krupp company had already registered the name. The German company offered to sell the rights for US$10,000. Ford refused and removed the Mustang badge, instead naming it as T-5 (pre-production Mustang project name) for the German market until 1979 when Krupp copyrights expired.