Today's car of the day is Hot Wheels' 1990 Lamborghini Diablo.

The Lamborghini Diablo is a high-performance mid-engined sports car that was built by Italian automaker Lamborghini between 1990 and 2001. It was the first Lamborghini capable of attaining a top speed in excess of 200 miles per hour (320 km/h). After the end of its production run in 2001, the Diablo was replaced by the Lamborghini Murciélago.

For more information and pictures of the real car please visit:
Lamborghini Diablo
This one is from the short-lived Revealers line. The car came in a wrapper covered with question marks so you couldn't see what you were getting. But the cars were pictured on the back of the package and each had a fairly distinctive shape so it wasn't too challenging to get the car you wanted. If I remember everything correctly, once you dipped the car in water the package would dissolve. It's the same casting that Hot Wheels had in their Mainline but with really bright colors and wheels.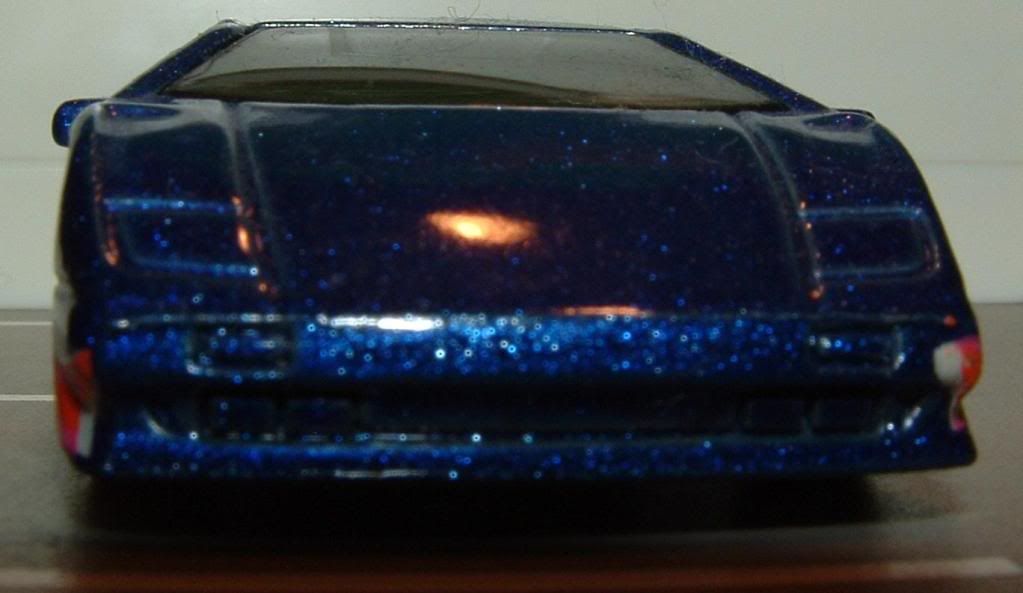 The Diablo was presented to the public for sale on January 21, 1990, at a base price of $240,000 at the Hotel de Paris in Monte Carlo during the second Lamborghini Day. Power came from a 5,709 cc (348 cu in), 48-valve version of the existing Lamborghini V12 featuring dual overhead cams and computer-controlled multi-point fuel injection, producing a maximum output of 499 PS (367 kW; 492 hp) and 580 N·m (428 lb·ft) of torque. The vehicle could reach 100 km/h (62 mph) in about 4.5 seconds, with a top speed of 202 mph (325 km/h). The Diablo was rear-wheel drive and the engine was mid-mounted to aid its weight balance.
The Diablo came better equipped than the Countach had; standard features included fully adjustable seats and steering wheel, electric windows, an Alpine stereo system, and power steering. Anti-lock brakes were not initially available, although they would eventually be used. A few options were available, including a custom-molded driver's seat, remote CD changer and subwoofer, rear spoiler, factory fitted luggage set (priced at $2,600) and an exclusive Breguet clock for the dash (priced at $10,500).
The Diablo was the fastest production car in the world for the 1991 model year, having a top speed of 333 km/h (207 mph), which exceeded the 324 km/h (201 mph) of the previous title-holder, the Ferrari F40. The Diablo held the title until the release of the Bugatti EB110 in 1991, which claimed a top speed of 343 km/h (213 mph).