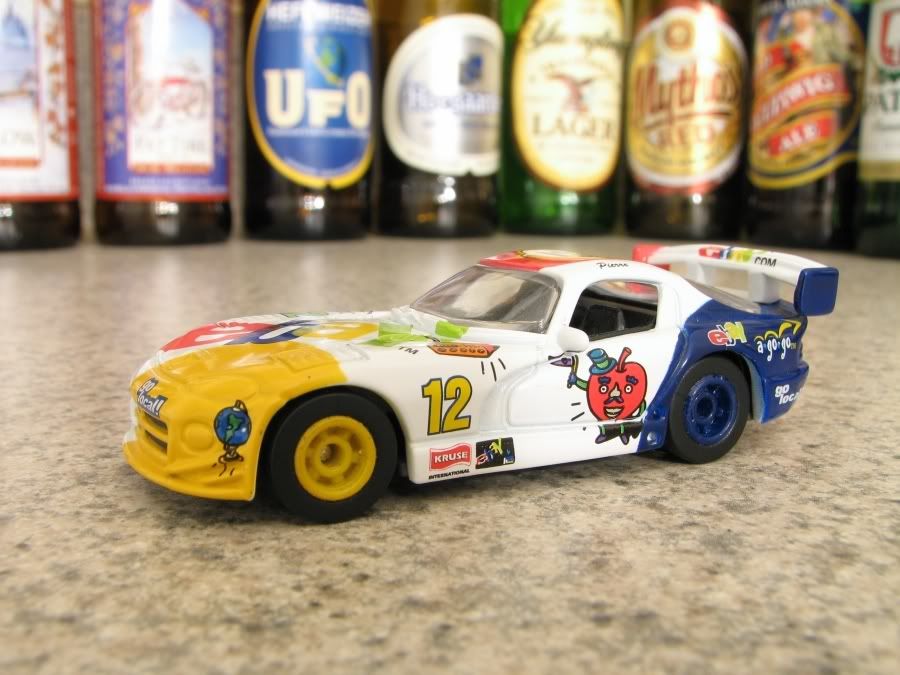 Today's Car of the Day is Johnny Lightning's Chrysler Viper GTS-R.
The Chrysler Viper GTS-R (also known as the Dodge Viper GTS-R when raced in North America) was a successful racing variant of the Dodge Viper developed in conjunction with Chrysler of North America, Oreca of France, and Reynard Motorsport of the United Kingdom. Officially unveiled at the 1995 Pebble Beach Concours, it has won numerous championships and famous events in its history. Some chassis are still in use today.
More info and pictures of the real thing: http://en.wikipedia.org/wiki/Chrysler_Viper_GTS-R
Well this one's pretty cool. As far as I can tell, this paint scheme is fictional. The eBay colors work though, and I love the asymetry and different colored wheels. I'm not quite sure who "Pierre" is, mentioned where NASCAR vehicles usually feature driver signatures, but there have been a few people with the name to drive this car.
The name should throw some of you off. The Viper was never marketed as a Dodge outside the US; since this car was principally developed and raced outside of the US, I find the Chrysler name fitting. The car was "officially" run under the Dodge name exclusively in North America, but it never specified Dodge or Chrysler anywhere in the world, only carrying the Viper GTS-R logos. Anyway, here's the top of this thing!