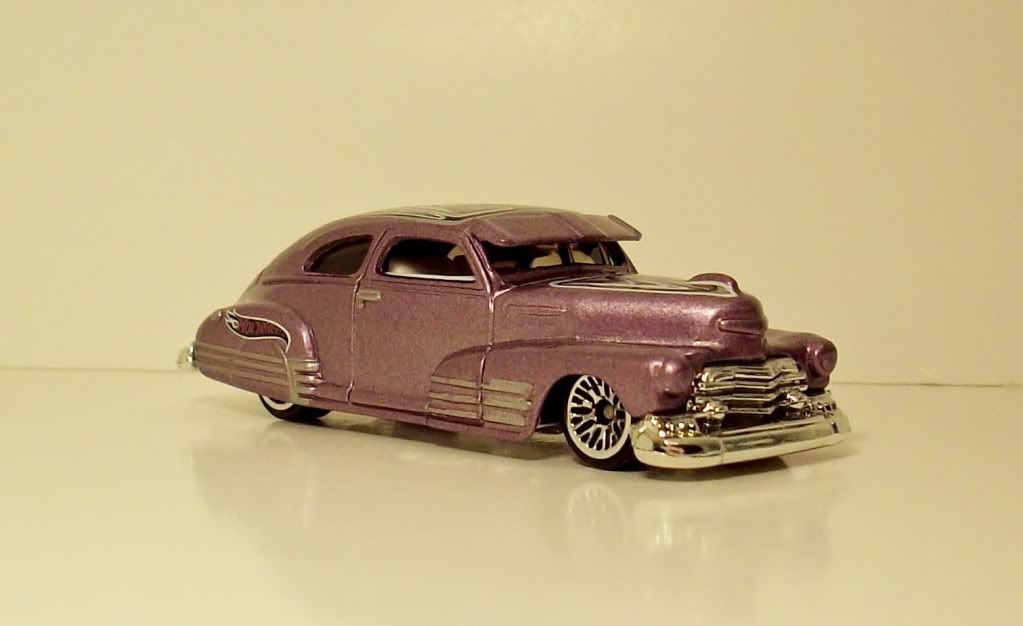 Today's car of the day is a Hot Wheels 1947 Chevrolet Fleetline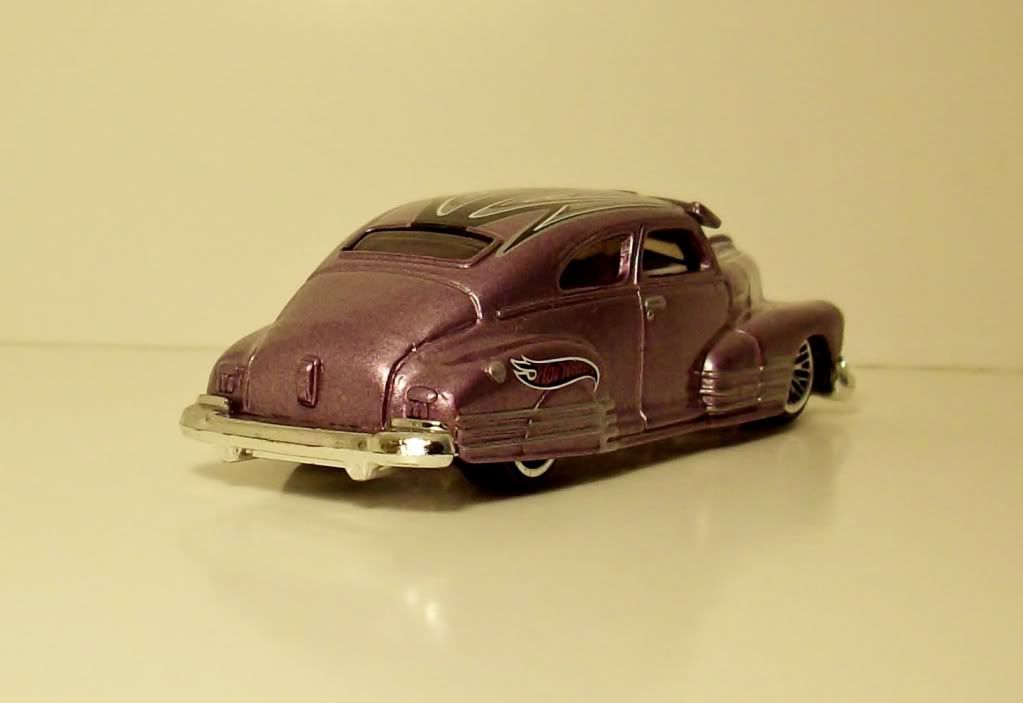 Howstuffworks.com
The 1947 Chevrolet Fleetline Aerosedan, despite being the most expensive two-door closed car in the Chevy lineup, was still the most popular model of the best-selling brand in America in 1947. Let's say you're not convinced that appearance is an important factor -- maybe the important factor -- that drives car shoppers to choose one vehicle over another. Then consider the 1947 Chevrolet Fleetline Aerosedan.
For more information on the '47 Chevy Fleetline here is the link: http://www.howstuffworks.com/1947-chevrolet.htm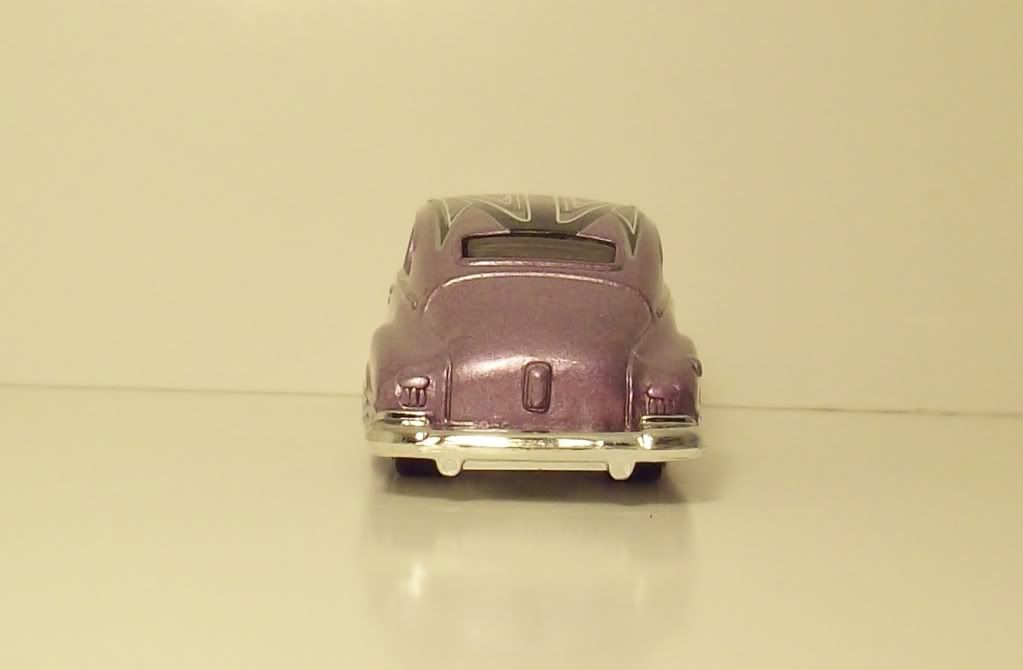 Why? After all, mechanically, it was the same as any of Chevrolet's other 10 models offered that year. In standard equipment, it varied little from most cars in the Fleet­mas­ter series, out of which the two-car Fleet­line subseries was derived. It had to be the looks. Aero­sedans had the benefit of fastback styling that was very much in vogue in the Forties. General Motors gave the style a big boost in 1941 when it launched a well-received armada of B-body Pontiac, Oldsmobile, Buick, and Cadillac sedans and coupes.
When a fastback roofline was extended to the A-body program in 1942, Chevrolet jumped on the bandwagon with the Aerosedan. An instant hit, this two-door companion to the notchback Sportmaster four-door sedan (another trendy style introduced in 1941 as the first Fleetline model) topped the Chevy sales charts in war-shortened 1942.
When postwar production resumed for 1946, the Aerosedan slipped back into the pack, but then shot back up into sales leadership the next two years. Our featured car is one of 159,407 Aeros made in 1947. Another 211,861 were made for 1948 before the aging prewar design was finally replaced. Aside from its distinctive roof, the Aerosedan came with a trio of chrome spears on each fender and special "Fleetweave" upholstery fabric that were Fleetline series exclusives. Otherwise, from its 90-bhp ohv 216-cid six to its 4.11:1 rear axle, the Aerosedan was a lot like most Fleet­master models.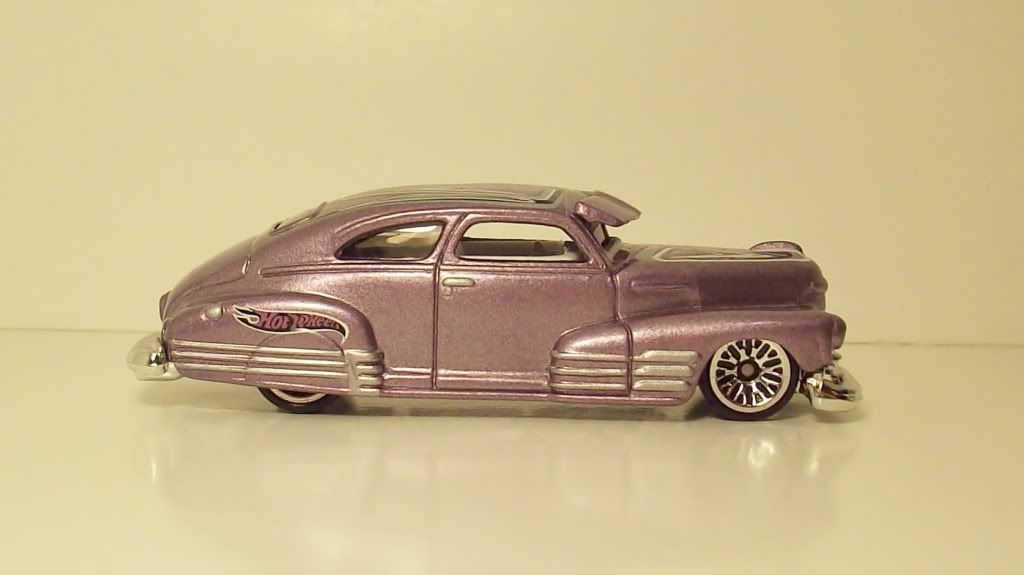 This is a pretty nice casting of the car but not too crazy about the color and tampos that it is plagued with. This would be a nice casting if they had used it in the 100% line with more realistic paint scheme and more detail especially to the chrome this car came with. It would look better without that visor over the front windshield but that Hot Wheels for you...LOL. I know I keep saying this but once I am an expert at doing custom builds, this one is going to get overhauled too. Its the only reason its in my collection otherwise the paint and tampos would definitely keep me from buying this one in the first place. I'm just glad it has clear windows in it.