Today's car of the day is a Ertl Collectibles 1969 Ford Mustang Mach 1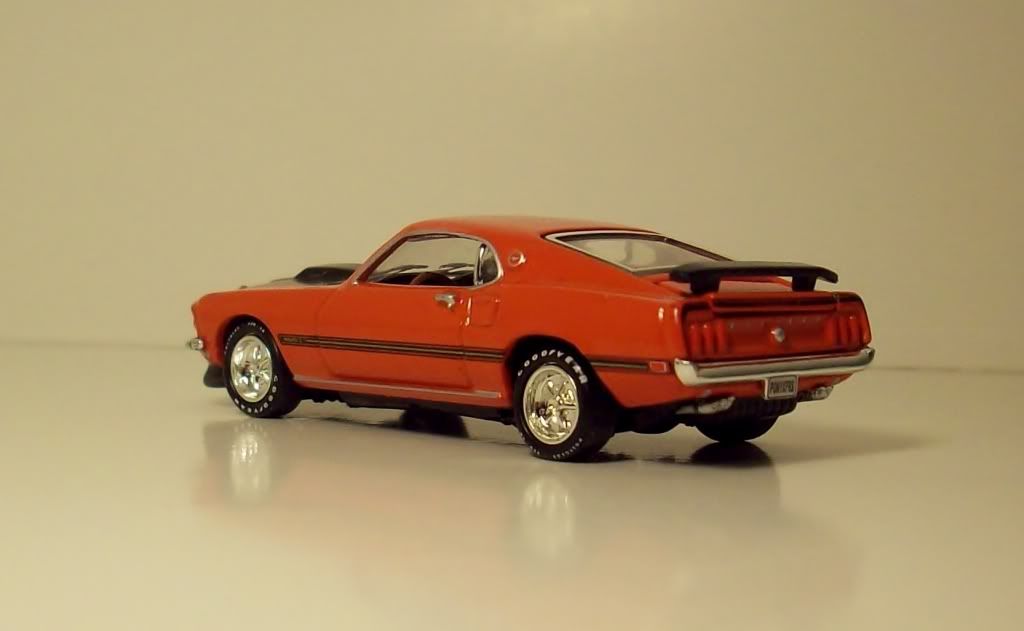 Wikipedia
The Ford Mustang was introduced in 1964 as a sporty "pony car" to attract younger buyers into Ford products. After only a few short years of development, Ford saw the need to create performance Mustangs to compete with GM and their release of the Chevrolet Camaro and Pontiac Firebird. While several performance options had existed in the form of factory 289's (from the '65s on) & factory FE engines (new for 1967 with the S-Code Engine), the vast majority of Ford Mustang's performance mantle was carried by cars modified by the legendary Carroll Shelby. 1969 was the benchmark year for Ford Mustang in its proliferation of performance names and engines. No less than 7 factory performance Mustang models were available (Boss 302, Boss 429, Shelby GT350, GT500 and the Mach 1). Additionally, 9 variations of V-8s were available in the '69-'70 cars. The GT model was discontinued after 1969.(1969 GT sales had dropped to 4,973 vs 72,458 1969 Mach 1's sold.) The "GT" Mustang would not be around again until 1982 on the Fox body platform.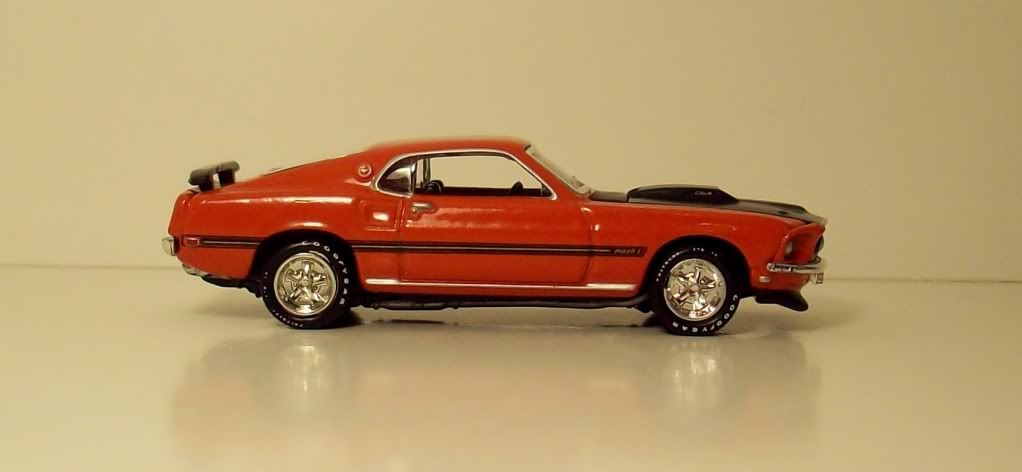 For more information here is the link. http://en.wikipedia.org/wiki/Ford_Mustang_Mach_1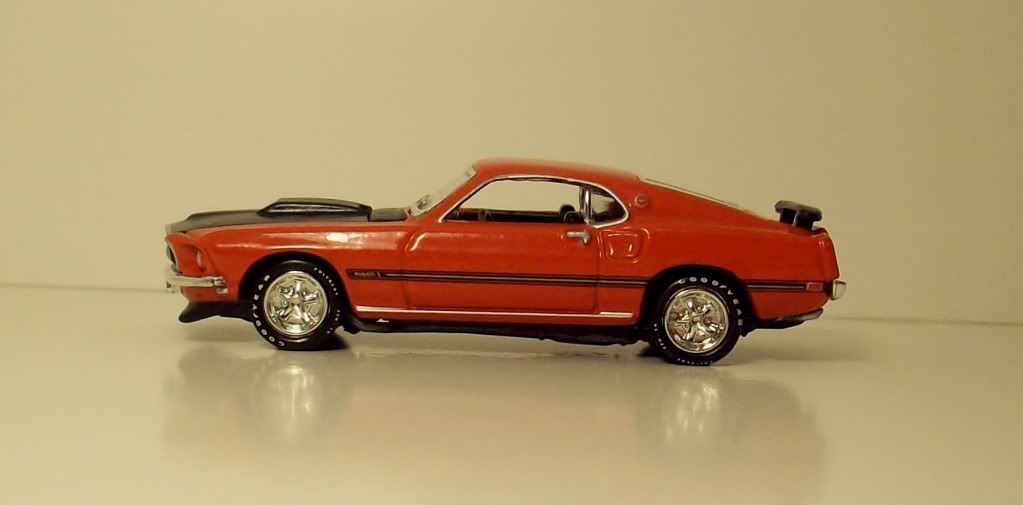 I wished I did my COTDS before diecastdingo did his. That way my cars won't look so lame compared to Patricks. Well, here is my shot at it. When I first saw this on one the tables at my HWs club I knew I would bringing this beauty home with me. Ertl collectibles did a very fine job on this one and I do have a soft spot for '69 and '70 Mustangs.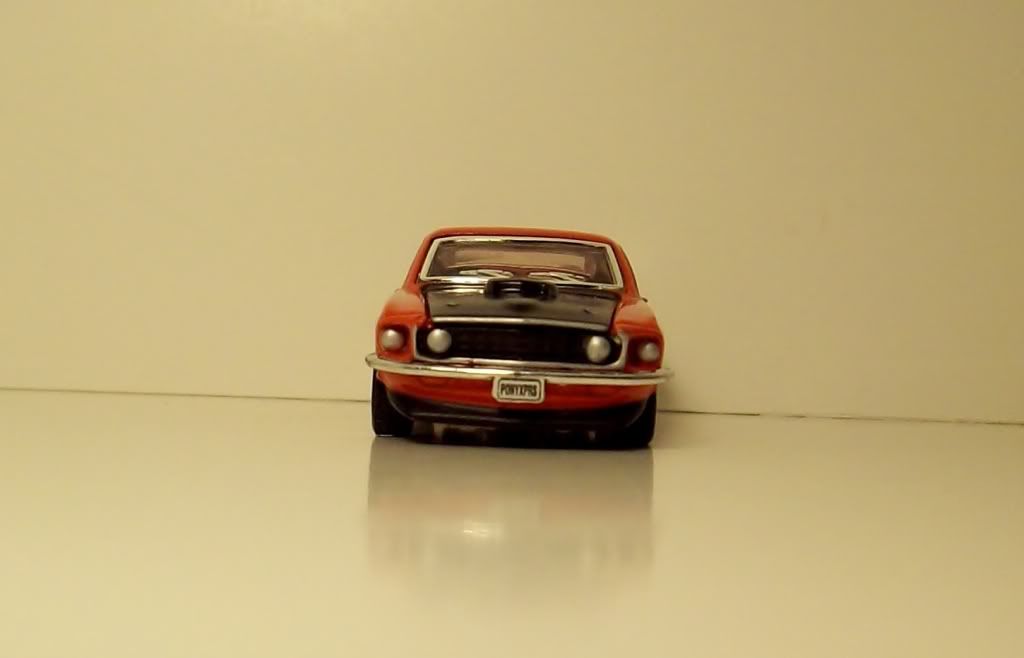 The new Mustang chassis, the last of the 1st generation models, allowed for larger engines than previous generations and could fit even the monstrous 429 for Ford's planned homologation of the engine for NASCAR competition. For Ford, the Mach 1 was introduced as an in-between model, a fit between the lower priced GT and the track oriented Boss 302s and 429s. The Mach 1 started with the fastback "Sports Roof" body and added several visual and performance enhancing items such as matte black hood with hood pins, chrome gas cap and wheels, chrome exhaust tips (except 351W 2V), and dealer optional chin and rear deck spoilers, and louvers. Standard equipment was a 351W 2V Windsor motor with a 3 speed manual transmission, and a 9" 28 spline open rear axle. A 351W 4V was optional as was a 390 4V, and the huge 428 4V Cobra Jet or with the "drag pack" option, the 428 4V Super Cobra Jet. A 4 speed manual or 3 speed FMX (small block)/C6 (big block) automatic transmission was optional, and the 428SCJ added a cast iron tailshaft in place of the regular aluminum one to the C6. A "traction lok" rear axle was optional, and the 428 CJ/SCJ included a "traction lok" with a 3.91 or 4.30 ratio, 31 spline axle shafts and a nodular case. In 1970, the 3.91 ratio was a "traction-lok", while the 4:30 ratio was a Detroit locker.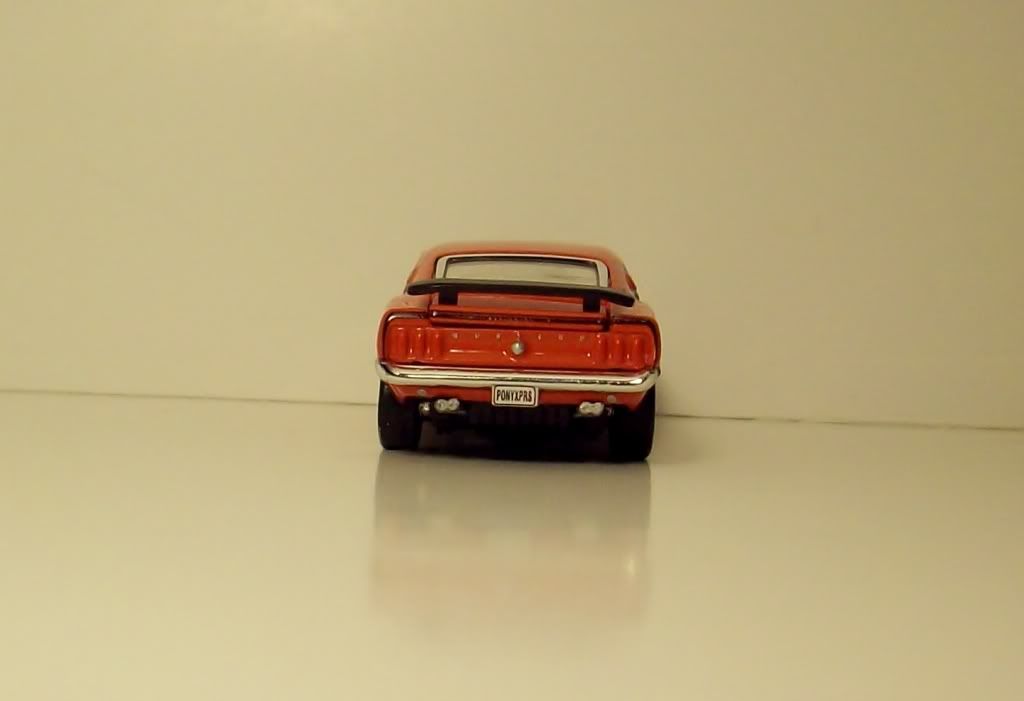 Mach 1s came with upgraded suspension to varying degrees dependent upon powertrain choices. Big block cars had front shock tower reinforcement, thicker sway bars (no rear bar for 69), and heavier springs and shocks. 428 CJ/SCJ 4 speed cars also came with staggered rear shocks. Standard on Mach 1s was a fierce but cosmetic hood scoop that had integrated turn-signal lights mounted in the back. A more functional option was the signature "Shaker hood", an air scoop mounted directly to the top of the motor, used to collect fresh air and so named for its tendency to "shake" above the rumbling V-8 below. The interior came complete with teak wood grain details, full sound deadening material and high-back sport bucket seats. The name Mach 1 could not have been more appropriate as in 1969, Performance Buyer's Digest put a new Mach 1 through its paces at Bonneville, breaking some 295 USAC speed and endurance records. Ford kept the Mach 1 alive into 1970 and little changed outside the visual. New Mach 1 specific bucket seats, Magnum 500 wheels, recessed taillights on a black honeycomb rear panel as well as new side and rear badging and striping were the main visual differences. Outselling the base GT model, Ford canceled the GT altogether to make the Mach 1 the primary street performance Mustang.