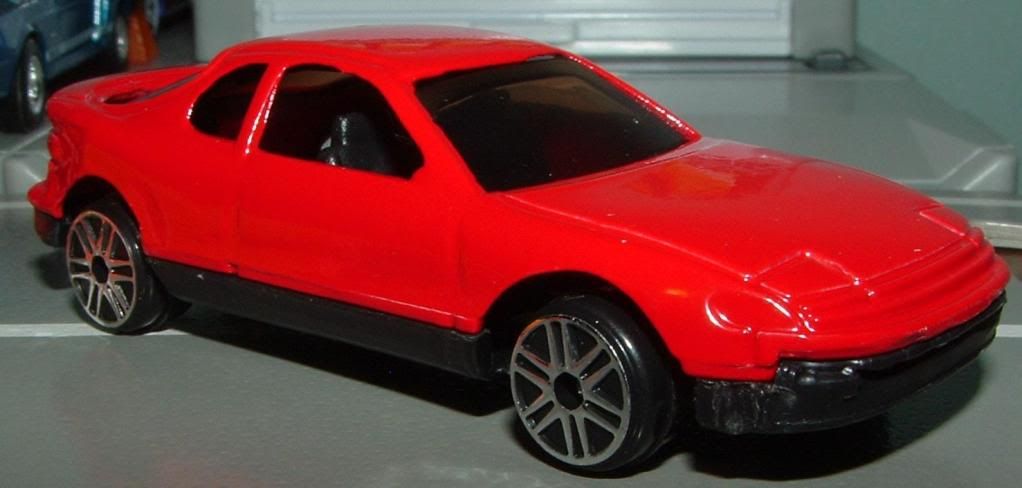 Today's car of the day is Yat Ming's 1990 Toyota Celica.
The Toyota Celica name has been applied to a series of coupes made by the Japanese company Toyota. The name is ultimately derived from the Latin word coelica meaning "heavenly" or "celestial".
Throughout its life span the Celica has been powered by various four cylinder engines. The most significant change occurred in August 1985, when the car's drive layout was changed from rear wheel drive to front wheel drive. During the first three generations, American market Celicas were powered by various versions of Toyota's R series engines. The four-wheel drive turbocharged model (designated All-trac in the United States or GT-Four elsewhere) was produced from 1986 to 1999. Variable Valve Timing came in late 1997 Japanese models, and became standard in all models from 2000 on. Through seven generations, the model has gone through many revisions and design forks, including the Toyota Celica Supra (later known as the Toyota Supra). The Celica was available as notchback and liftback coupes, as well as a convertible.

For more information and pictures of the real car please visit:
Toyota Celica

This casting dates to when the real car was still in showrooms. I think we need to reflect on that for a moment- how many generations of Celicas have there been since this one? And just how long has the real Celica been discontinued? And yet this Yat Ming soldiers on year after year. It looks good in plain red with no ugly tampos, but the tooling itself has seen better days. The rear quarter panels look like this car has seen time on a local short track and been "repaired" one too many times (with a sledgehammer). This example came from a ten pack at a Meijer's in Indiana on my way back from Lightning Fest. $5.00 got ten cars and a playmat, so it's hard to really criticize a car that retails for under $.50 when Hot Wheels and Matchbox both have now broken the $1.00 barrier, probably for good. The big surprise in this ten pack was discovering the Nissan 240SX has been modified into a generic with odd looking headlights and taillights.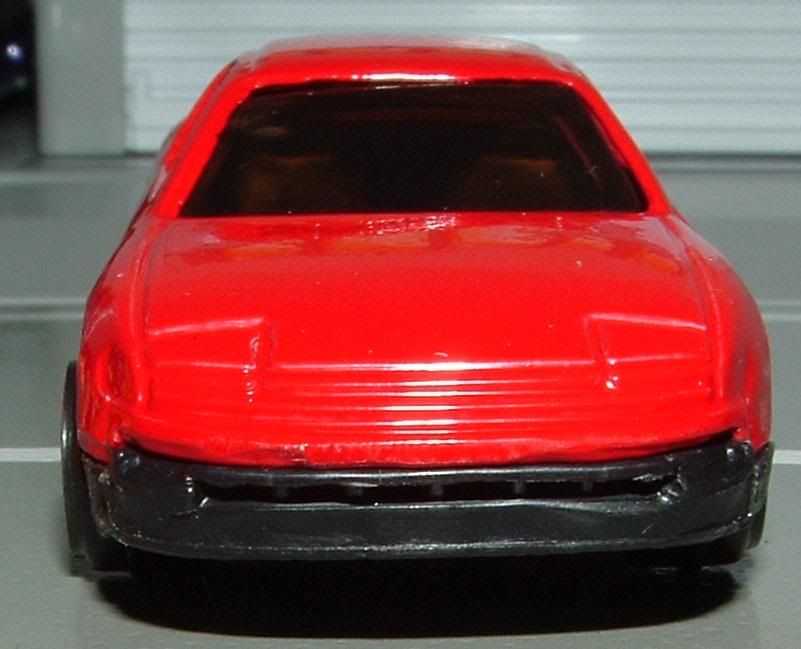 The fifth generation Celica was introduced in September 1989 for the 1990 model year. The Celica received new Super Round organic styling, upgraded wheels and tires, and a more powerful GT-Four (US: All-Trac). Toyota engineers claimed that the round styling and lack of straight edges increased strength without adding weight. The styling was later copied by other manufacturers. Japanese domestic market (JDM) models were now S-R, Z-R, GT-R, Active Sports (with active suspension), and GT-Four. The S-R and Z-R were powered by a 3S-FE engine, while the GT-R and Active Sports came with a 3S-GE. The 3S-GTE in the GT-Four features an air-to-air intercooler and CT26 twin entry turbo to eliminate exhaust gas interference. The JDM GT-Four has 165 kW (221 hp) and 304 N·m (224 lb·ft) of torque, a result of more aggressive ignition advance and ceramic turbine. The Full-time 4WD system in the GT-Four has viscous coupling limited slip center differential and Torsen rear differential. Eddie Murphy made television commercials in Japan for the fifth-generation Celica, promoting the styling and the Super Live Sound System.
The North American Celica had fixed door mirrors and amber front corner lights. All other models had folding mirrors and clear corner lights. Driver's side SRS Airbag is standard on all US models. The base model ST has 1.6 L 4A-FE, the GT and GT-S were powered by the 2.2 L 5S-FE. The 1.6L was similar to the one used in the Corolla. The GT-S was rated 5 hp (4 kW) more than the GT at 135 bhp (101 kW; 137 PS). The 2.2 L was designed for more low-end torque, which appealled to U.S buyers' preferences as opposed to the high revving engines of the past. This engine was similar to the Camry's engine except for the balance shafts. The All-Trac Turbo was available with the improved 2.0 L 3S-GTE engine. It was rated at 200 bhp (149 kW; 203 PS) and 200 lb·ft (271 N·m) torque; an increase of 10 each from the previous model. The GT-S and all export market GT-Four are wide-body Liftbacks with flared fenders. The JDM GT-Four was also offered as normal body.
Trim levels for the European Celica were 1.6 ST-i, 2.0 GT-i 16, and GT-Four. The 2.0 GT-i 16 Cabriolet was offered only in certain European countries. Only the 2.0 GT-i 16 Liftback and GT-Four were officially sold in the UK. For 1992, the wide body 2.0 GT-i 16 was offered in the Netherlands and Belgium. This is basically a GT-S with 3S-GE engine.
Models for Australia were SX Coupe, SX Liftback, GT-Four, and also 150 units limited edition GT-Four Group A Rallye. The Australian cars are less luxurious than JDM and North American models. Initially, the GT-Four did not come with ABS and fog lamps, which became standard few months after the introduction. In 1993, the Limited Edition WRC Trophy model was offered in Australia. This is basically the SX with sport front seats from the GT-Four, cruise control, rear window shade / spoiler, and special decals.
In August 1990, the wide body GT-Four A and Convertible were added into the Japanese Celica line up. Super Live Sound System with 10 speakers became standard on the GT-Four A and optional in other models except the S-R. The 20th Anniversary GT-R came in December 1990 to celebrate 20 years of Celica production. The Celica Convertible was built by American Sunroof Corporation (ASC) in California. It was offered as GT in US with 5S-FE engine, or as Type G in Japan, and 2.0 GT-i 16 Cabriolet in Europe with 3S-GE engine. The JDM Convertible also has 4WS. The European Celica Cabriolet retained the old style front bumper for 1992, and received the facelift in 1993.
There are three different gearboxes for ST185 GT-Four. The E150F gearbox with 4.285 final gear ratio was installed in the JDM and All-trac. European and Australian models, as well as the RC/Carlos Sainz/Group A models, come with the E151F gearbox with 3.933 ratio. The JDM only GT-Four Rally, a limited edition lightweight rally version sold only in Japan (not to be confused with the Australian GT-Four Grp A Rallye model), has the E152F gearbox with close ratio on the 1st through 4th gear and 4.285 final ratio. It also comes with steel wheels and without air conditioning, power windows, or a power antenna. The early model is based on the normal body, and the facelift model is wide body with round fog lights. Also sold in Japan only was the GT-Four V. This is an economy version of normal body without alloy wheels, leather, or System 10, but still comes with fog lights, power windows, and optional sunroof. This was not sold in Australia.
Anti-lock brakes (ABS) were available on the GT-S all four years and was available on the GT from 1992 to 1993. ABS, Leather interior, Sunroof, and System 10 Premium Sound System are optional on the GT-S and '90–'92 All-Trac, and standard on '93 All-Trac. With its sport-style interior, power-operated driver's seat, auto tilt-away steering wheel, and cruise control as standard equipment, the All-Trac (known as the GT-Four outside of the US) was the most expensive Celica yet. With a 2.0 L turbocharged 3S-GTE producing 149 kW (200 hp), it was the most powerful Celica ever sold in the USA.